Theresa Schweingruber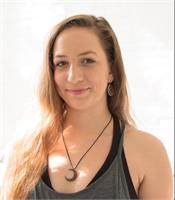 Theresa's training through Drexel University, under the direction of Jennifer Morley, has
prepared her to teach students of all levels in mat classes and on the Pilates equipment.
As a dancer since the age of 4, she initially became interested in Pilates as a reliable cross-training practice to support her dance endeavors. Her genuine love for movement and the mind-body connection only enhanced her experiences with Pilates, both as a teacherand practitioner.
She hopes to share her practice and understanding with others who are also looking for support through cross-training.
Theresa Schweingruber instructs the following:
Our signature Pilates Mat Class, perfect for practitioners of all levels! This flow is geared towards beginners and advanced practitioners alike, utilizing creative modifications and amplifications. Expect a great workout utilizing all of the classical mat work and Pilates fundamentals.




A full intermediate/advanced class utilizing the original series of exercises as created by Joseph Pilates. This class will challenge and take you to a new level of awareness of your body and technique. Recommended for people with strong technique and experience with Pilates only.




Sculpt, strengthen and stretch in this ballet barre inspired class. You'll work your abs, arms, butt and thighs and leave feeling flexible, strong, balanced and invigorated.




An Open Level Mat Pilates Class designed to get your energy flowing, and the body and brain ready for a successful day ahead!