Meredith Kresch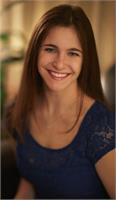 Meredith is a norther Jersey transplant who began dancing almost as soon as she started walking. She spent of most her childhood studying ballet, jazz, musical theater, and hip-hop and playing sports. While in college she was a member the Straight Hip Hop Dance Crew. During her college years, Meredith began performing with Tom Foolery Theater in north Jersey. She was also their choreographer from 2009-2013. In 2011 Meredith became Zumba certified and began teaching classes. When moving to Philadelphia, Meredith became involved with the Broadway Theater of Pitman as a performer and choreographer as well.
Meredith currently teacher Zumba at Thrive Pilates! Zumba is a dance style cardio fitness class which pulls from Latin dances, like salsa, cumbia, and reggaeton, and hip-hop.
Outside of dance, Meredith is an itinerant mainstream teacher of the deaf with Clarke Schools for Hearing and Speech. She works with students with hearing loss ages 3-21 throughout south Jersey and Philly. Meredith has a B.S in communication disorders from the University of Massachusetts and an MA in Education for the Deaf and Hard of Hearing from Hunter College.
Meredith Kresch instructs the following:
This class will rev your metabolism and tone your body using high intensity interval training (HIIT) and strength training that follows the Pilates principles of length, strength, concentration, stamina, and stability. You can expect plyometric movements during the HIIT sequences and slow, controlled movements during the strength sequences. This full body workout will include the use of a variety of props, such as weights, bands, and sliders. The class will end with a focus on core work and stretching on the mat. Come get ready to sweat and burn, all while staying within safe and intelligent awareness of alignment and ability. Sneakers are not required but are recommended.




Sculpt, strengthen and stretch in this ballet barre inspired class. You'll work your abs, arms, butt and thighs and leave feeling flexible, strong, balanced and invigorated.




PILOXING is an exciting, inter-disciplinary program that uniquely mixes Pilates and boxing moves into a fat torching, muscle sculpting, core-centric interval workout. Our instructors will undoubtedly whip you into shape, using a class format that's both fun, challenging and technically sound.