Kristin Gahwiler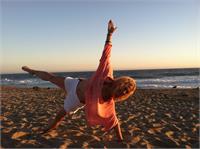 Kristin is a former professional dancer. Trained in: Classical Ballet, Modern Dance, Jazz and Tap for many years, She turned to Pilates in the early 90's to help heal a dance injury. Later discovered Yoga completing her teacher training at the Yoga Life Institute in Devon, Pa.
She has over 20 years of teaching experience in the health and fitness industry.
"My passion is teaching people how valuable studying Pilates and Yoga can transform your life; physically, mentally and spiritually."
Specializing in sports medicine combined with corrective exercise to prevent injury and help rehab post-op clients see their bodies change and feel and look better!
225 Hour Registered Yoga Instructor,
The New York Pilates Studio/
The United States Pilates Association Certified Instructor.

NASM Certified Personal Trainer and ASCM Certified Fitness Specialist.

Master's Degree in Exercise Physiology/ Temple University

Bachelor's Degree in Dance Education/ The University of the Arts
Available for Private Pilates & Yoga Sessions.
Contact:
267-252-9304
Kristin Gahwiler instructs the following:
The best of Yoga & Pilates in ONE class. Fuse the asana flow & breath-work of Yoga with the core strength, focus & precision of Pilates for an unforgettable workout intended to target all major muscle groups and improve balance both physically and mentally!

*This class takes place in the PPYoga room - expect to sweat.