Chelsea Gilday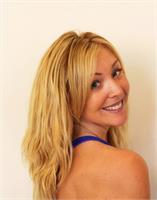 Senior Pilates, Barre, Cardio & Yoga Instructor
Chelsea Gilday was a dancer for most of her life. She practiced every form of dance, but her main focus was ballet. She studied at the Rock School for Dance Education and graduated with a certificate in Dance. She guested with the Pennsylvania Ballet throughout her time there and soon after joined the company. While there she performed a variety of repertoire from original contemporary works set on the company to the classics. With Pennsylvania Ballet she also performed outreach and education programs, bringing dance to the inner city schools of Philadelphia. Chelsea also worked with MANNA while with the company, performing an HIV benefit performance called Shut Up and Dance.
After leaving the ballet company to pursue other interests, she found Pilates and from her first reformer lesson, she wanted more! Chelsea finished her Pilates certification in New York at True Pilates NYC. She is classically trained with all equipment and mat work through Romana's Pilates, where she was able to take lessons with master teachers Sari Mejia Santo and Cynthia Lochard. Chelsea was even able to work with Romana Kryzanowska, Joseph Pilates' protege student. Chelsea teaches Private Pilates Equipment Training, Group Pilates training, Barre Sculpt Classes, YP Fusion, and Power Yoga at Philly Power Yoga and Thrive Pilates. In the summer of 2013, while filming the movie "Dead Man Down" in Philadelphia, Chelsea worked exclusively with starring actress Noomi Rapace, who even asked her co-star Dominic Cooper to join in on the lessons.
Yet nothing quite gave her the same spark as dancing until she stepped onto her yoga mat. In January 2015, she was accepted to study with Meghan Currie in Nicaragua for her 200 hour YTT and is certified with Yoga Alliance, along with finishing her certification with Steve Gold at Philly Power Yoga. Chelsea loves the creativity and freedom in the flow, making it feel like a dance with focus around the core and alignment. Chelsea is inspired by all forms of movement and infuses her pilates and dance background into her yoga flow. She encourages her students to never stop exploring, questioning, and pushing themselves beyond their own limitations.
She loves this practice because to her it is not exercise--it connects your mind to your body. Every path is so individualized and the more the physical practice unlocks the body, the more the mind opens. It helps you work through any obstacles and brings emotions to the surface that may be very confrontational. Chelsea is passionate about learning and continues to strive to be a better teacher daily. She feels there is no better feeling than being upside down. When she is on her hands balancing, she is completely in the present moment--a meditation for her. She feels her mat is her second home. When she is not practicing, she loves to travel, hike, be by the ocean, or get lost in the city.
Chelsea Gilday instructs the following:



Get ready for a booty blast body sculpt! In this unique format class, with a foundation in Pilates principles, we will focus on our standing, kneeling and laying butt and thigh exercises.




Get your heart rate up in this fun and challenging barre class designed to sculpt your abs, arms, butt and thighs and leave you feeling stretched, strong, balanced and invigorated.




Let our expert instructors take you to your edge and beyond with a unique sequence of flowing asana's (poses) linked together by breath. In a room heated to 90 degrees, this Power Yoga is guaranteed to increase strength, cardio-vasular endurance and flexibility. Bring a mat, towel and water, 'cause you're gonna sweat!




The best of Yoga & Pilates in ONE class. Fuse the asana flow & breath-work of Yoga with the core strength, focus & precision of Pilates for an unforgettable workout intended to target all major muscle groups and improve balance both physically and mentally!

*This class takes place in the PPYoga room - expect to sweat.




Our signature Pilates Mat Class, perfect for practitioners of all levels! This flow is geared towards beginners and advanced practitioners alike, utilizing creative modifications and amplifications. Expect a great workout utilizing all of the classical mat work and Pilates fundamentals.